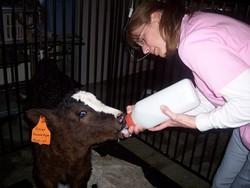 24-Hour Emergency Service
In an EMERGENCY, call (419) 483-7480 and listen to the entire message for instructions on how to page the doctor on-call. When paging a doctor please leave your name, phone number and a brief description of your problem. Our on-call veterinarian will return your call as soon as possible. Remember to stay off your phone line so the doctor may reach you.
Intensive Care
Sometimes animals need more intensive care than we can provide on the farm. For these situations we have in-clinic intensive care available to our large animal patients. A veterinarian or a registered veterinary technician will provide the services necessary to those patients requiring hospitalization while they stay at our clinic. Please inquire about the availability of this service.
Continuous Care
Since we handle our own emergencies, you can be assured that a veterinarian will be able to provide assist you 7 days a week, including holidays.