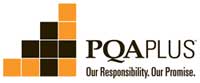 PQA Plus
PQA Plus is a voluntary producer training program developed to maintain the mainstream consumers' confidence in the safety of pork and in the industry's animal care practices.The Pork Quality Assurance Plus program is built upon 10 Good Production Practices.
To become PQA Plus Certified, the producer/individual must:
General
No previous education or work experience required.
Training and Examination
Attend a PQA Plus Certification training session on the PQA Plus Good Production Practices conducted by a PQA Plus Advisor.
No examination is required for PQA Plus Certification.
No National Pork Board fees are required.
Certification
PQA Plus Certification is good for three years based on the PQA Plus training date. Retraining is mandatory for recertification.
If you are interested in becoming PQA Plus Certified please contact us to arrange a training date.